PRODUCT

| | | |
| --- | --- | --- |
| | JAPAN "UCHIDA" Bundling Machine | |


| | |
| --- | --- |
| | TAPIT-WX |
| | |
| --- | --- |
| | Product description: |

Features
● Same great features of Tapit series
Our newest models have even better quality. You can use both Kraft tape and opp film with a single machine. Once it's turned on it will be immediately ready to start bundling without any warm up. The faster speed in this class and stable tape delivery guarantee perfect bundling jobs.



● Highest-end bundler


The highest-end bundling machine Tapit-WX has several advanced features. It can bundle bigger materials with higher tension, and it's even faster. Thiner 60u film is now available as well. "Pause function" enables more stable tape loading and operation. Tapit-WX will certainly save your time and running costs.

Suitable
●

Electronic parts、Hardware products、Gift box、Small package article、medicinal tablet、small IC chip、Envelope、Voucher、Bill、Opto-electronics blister box、panel、PCB、Makeup products and so on…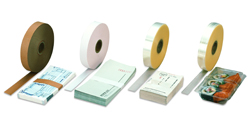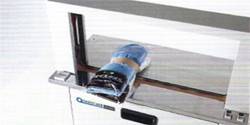 Specification
●

Bundling size:Min. - 30mm(W) x 10mm(H). Max.- 420mm(W) x 210mm(H).


●

Sealing method:Welding by hot plate.
●

Bundling Speed:Up to 30 bundles per minute.
●

Tape:Craft paper tape、White paper tape、60u ~ 110u OPP film -30mm(W).
●

Bundling tension:5~40N (1N=0.1kgf).
●

Power source:AC 110/220V 60/50Hz 200W(power consumption).
●

Net weight:29kgs.
●

Options:Pause function, squeeze function, soft bundling.
●

Dimensions:569(W) x 300(D) x 490mm(H).



Specifications are subject to change without notice.